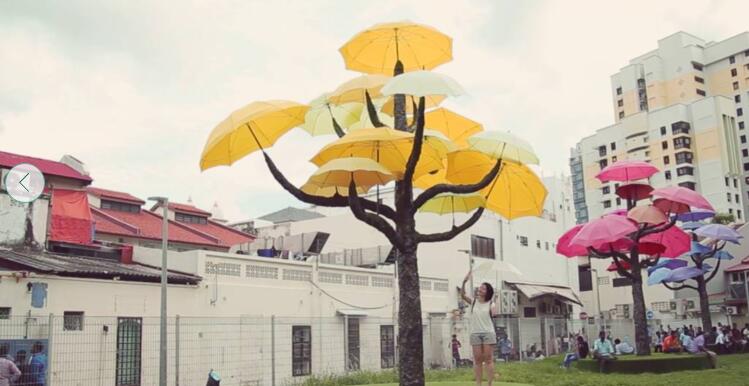 The city-state of Singapore is located in a tropical rainforest climate, getting 92 inches of rain every year. But in Singapore's Little India, on the aptly named Hindoo Road, locals and tourists alike can get protection from the frequent downpours by sitting beneath one of the neighborhood's unique Umbrella Trees.
Little India's forest of Umbrella Trees—where the trees' leaves are replaced by vibrant umbrellas—appears to have sprung straight out of the mind of Dr. Seuss. Part of art installation created by local artist Marthalia Budiman, the Umbrella Trees have transformed a small public park space into an oasis of color, beauty, and protection from the elements.
There are five Umbrella Trees in the grassy space, colored with a palette of red, orange, yellow, blue, and purple umbrellas. Each tree rises up from a large green cushion that visitors can sit on to escape the rain and beating sun in comfort.