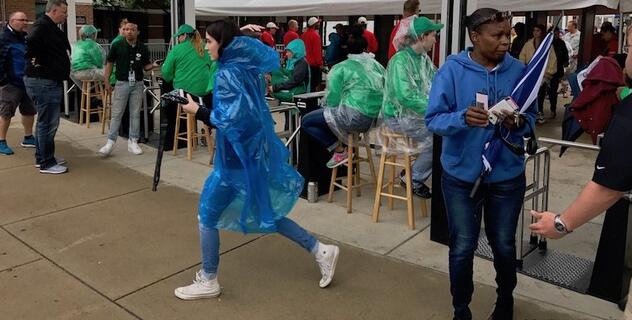 Can you bring your umbrella into Summerfest?
Summerfest 50 may be kicking off with some storm showers, but that doesn't mean the weather has to rain on your Big Gig opening day parade.
According to Summerfest officials, yes, you can bring umbrellas into the festival grounds and stay dry during today's Day 1 merriment. The only place they're not allowed, unfortunately, is American Family Insurance Amphitheater – but that, for the most part, comes with a roof, so really you should be fine.
If you bring an umbrella and don't want to lug it around all day or night, there are places, including a central location at the Mid-Gate, where you can check it for $2.
The new Summerfest store, next to the Miller Lite Oasis (it's bright red, you can't miss it) is selling two kinds of poncho, too.
So, between ponchos and umbrellas, you should be safe and dry from the rain tonight. As for rude people spilling their beers on you ... well, you're on your own there.