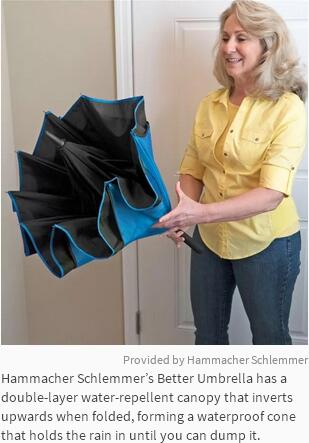 HOW DRY YOU'LL BE: Umbrellas do such a good job of shielding us from rain and snow outdoors, only to soak us and/or our surroundings with residual water when we close them. That unsatisfactory finale has prompted the ever clever folks at Hammacher Schlemmer to design an umbrella that keeps its wet to itself when folding.
The genius to the aptly named "Better Umbrella," is elementary, dear reader. Instead of a single swath of protective cloth, this umbrella has a double-layer water-repellent canopy that inverts upwards when folded, forming a waterproof cone that holds any liquid inside. Its user decides when and where to dump it — say, a sink or outside the door.
The inside-out design provides the fabulous bonus of making entering a car — umbrella drawn — easier and drier. No more having to tackle the logistics of managing the invariably uncollaborative working relationship between a car door and a standard umbrella.
You just slide into the car, and this umbrella inverts helpfully upward as it slides downward, allowing you to stay nice and dry, while your trusty umbrella metamorphoses into a slender vessel at your disposal. The same nifty advantage holds true when exiting the car — or a building. The umbrella "grows" its canopy as you emerge into its full coverage.
You'll have to manually fold and unfold this umbrella (a single button unlocks the mechanism), and it doesn't collapse into a mere mini. But the 32-inch-long shaft has a sturdy non-slip ergonomic hand grip, provides a nice big 48-inch-diameter canopy and is a svelte 2 inches thick when folded — in my book, an acceptable trade-off considering its talents.
From Acme Umbrella Co., Ltd.