rab one of the spokes of Eric Dyer's giant wheel and give it a good spin, like you're playing Wheel of Fortune. Watch in awe as the images on the flat circle come to life before your very eyes, rows and rows of animated umbrellas move side to side and pop out at the viewer. The piece, on view by the Inner Harbor as part of Light City, pays homage to Baltimore's lost manufacturing industry, incorporating images of real umbrellas made in factories here.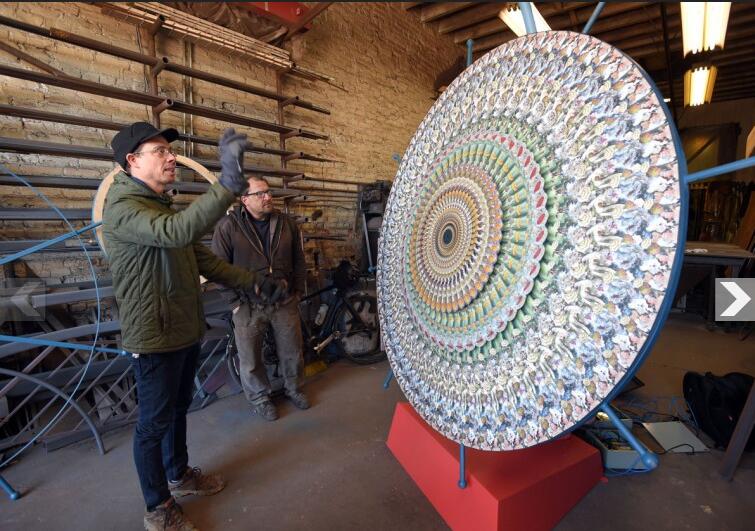 Dyer's been fascinated by umbrellas since teaching a workshop in Shanghai, China, where, he says, umbrellas are everywhere — both used as shade from the rain and from the sun.
Legend has it that the first umbrella raised in the United States was opened in Baltimore in 1772. Depending on the source, some guy either bought it from a ship in the harbor, or had just returned from travels in India with a parasol as his souvenir.
When he carried it on the streets of Baltimore, horses were spooked. Women ran in horror. Children threw stones. "He was mobbed and his umbrella torn to shreds," The Chicago Tribune claimed in 1931.
Despite this inauspicious beginning, Baltimore eventually became the world's leader in umbrella manufacturing. A German immigrant named Francis L. Beehler opened an umbrella factory downtown in 1828, the nation's first. Others followed suit: Gans Brothers, whose ingenious slogan was "born in Baltimore, raised everywhere." Their luxurious, often frilled and very stylish wares traveled to Europe and the Philippines. Yet another company, Polan Katz & Co., would become one of the largest manufacturers in the world.
By 1922, a Sun headline declared: "BALTIMORE CENTER OF UMBRELLA TRADE." The city was manufacturing around 2 million umbrellas each year, produced from a variety of
fabric
s, often with finely crafted handles.
"There was a time when the umbrella was a joke, the object of derision," the author wrote. But those days were over. "The umbrella of today is not only a necessity but a thing of beauty."
Like the rest of the city's dry goods manufacturing, umbrella making eventually died out. Polan Katz & Co. closed for business in 1981, their advertisements turned over to the Baltimore Museum of Industry on Key Highway.
It was there that Dyer first learned about Charm City's relationship with rain protectors. He decided to feature them in an artwork, entitled Shabamanetica, which explores the links between Baltimore, Panama and Shanghai. The piece works as a type of zoetrope, a precursor to animated films.
He used images of umbrellas made in Baltimore factories, and found from old advertisements borrowed from the BMI. One features a woman with a perplexed expression — she's wondering if it's about to rain. But Dyer sees another meaning when looking at it from the year 2017.
"It's almost like, 'What happened to our industry?'" he said.
Dyer's installation is on view in the Inner Harbor through April 8. "I've been completely blown away by the reaction of the public to the zoetrope-sculptures," he said in an email. "I get a lot of very smart questions and love hearing spontaneous comments like 'Amazing!', 'Oh my God!', 'Incredible!', etc, etc. The project was begun in December and completed only a week before the festival opened – to immediately hear such reactions and engage in numerous in-depth conversations each night has been beyond rewarding."