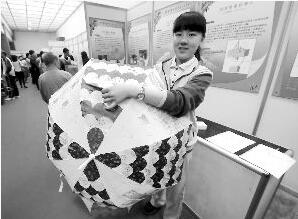 On the 24th, at "2012 Nanjing Primary and Secondary Students Technology Small Invention Exhibition" organized by Nanjing Science Hall, small and medium-sized science and technology inventions brought by Nanjing primary and secondary students solved the embarrassing thing that many situations in life would encounter. Many small inventions shines, people feel the originality of primary and secondary students.
The company is located in:
At the scene, Yu Xiuming, a senior high school attached to Jiangsu Education College, brought two beautiful and "strong" umbrellas. Their capabilities are not small, and they can resist a maximum of 7 gusts. "The reason why this umbrella can be designed is mainly inspired by the appearance of Arowana in the aquarium." Yu Xiu-ming opened the umbrella and said that by opening an aperture in the umbrella surface, the umbrella can be easily solved. "Umbrella design into two layers, the upper scale, can effectively block the rain and sunlight; the lower umbrella cloth evenly covered with small round hole, the wind can be through these small holes through the umbrella." Yu Xiu Ming said the general The umbrella in the face of 4-5 wind, the umbrella will appear folded. And her umbrella against 6 gale.