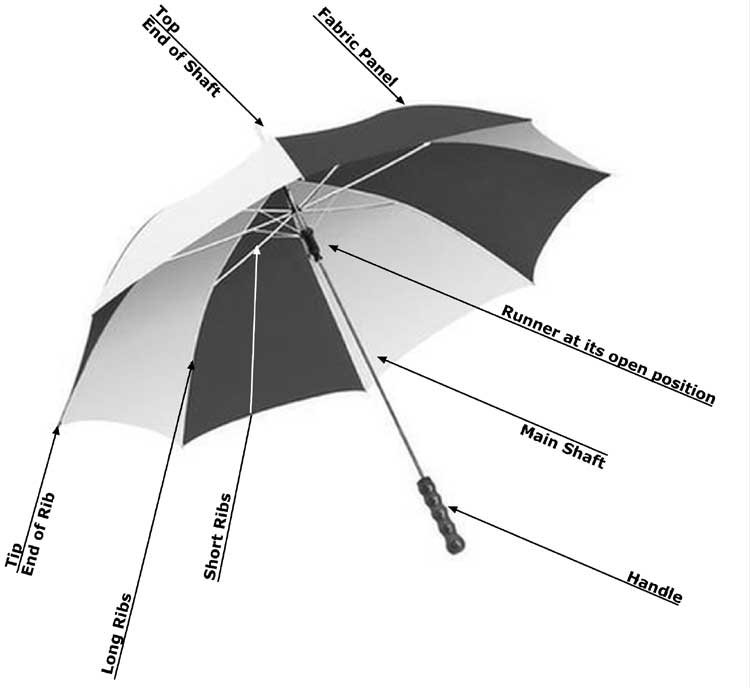 Panel
The cover of an umbrella is hand sewn in individual panels to the ribs. Each panel has to be shaped to the curve of the supporting rib, the cover cannot be cut in one piece. Panels are sewn at the outer edges of the ribs. There are also connections between the ribs and the panels about one-third of the way down from the Centre of the total Width. Each panel is cut separately from piles of materials called gore; machine cutting of several layers at once is possible, although hand-cut is more typical. Most common rain and sun umbrella has eight panels, although some umbrellas with four, six, seven, twelve, sixteen and even twenty-four panels can be built.
Ribs, Runner and Frame assembly
The ribs and frames are assembled first, usually from "U" shaped or channeled steel or other applicable metals. Ribs run underneath the top or cover of the umbrella. Frames and ribs form the basic holding assembly for the cover movements of closing and opening in operation. The Frame assembly is attached to the shaft of the umbrella by fitting into slots of a top notch round nylon or plastic piece with teeth around the edges, and then held with thin wire. The Frame assembly is connected to the shaft of the umbrella with the plastic or metal cylindrical extension part of the top notch ? the Runner, the piece that moves along the shaft of the umbrella when it is opened or closed.
Shaft
The Shafts of umbrella are usually made of wood, metal, or aluminum. Fiberglass is occasionally used in large golf umbrella. While wood shafts are made using standard wood-shaping machines, metal and plastic shafts can be drawn or extruded to the proper shape, by metal or plastic machine formation, too.
Handle
The handle is connected to the shaft at the end of the process, and can be wood, plastic, aluminum, EVA, rubber or PU leather. Handles can be screwed on, heat up shaft or glued to secure the handle tightly.
Fabric
There is wide range of choice in synthetic fabric for umbrella covers such as Polyester, nylon, Pongee, satin, T/C, PVC, EVA, Oxford or the newest extra-fine fabrics formatted through the use of Nano Technology. The good-quality umbrella fabric is usually rated at 190T or 210T. It means there are 190 or 210 threads per inch, for both X and Y Axis with an water-proof coating on the surface. Fabric manufacturer usually handles the Coating and finishing process of the fabrics, the Fabric patterns and designs are the creations and preferences of the buyer. The finished product manufacturer can also add his own, or buyer patterns and designs using silk screening process, this is the most flexible printioption to handle small quantity orders of umbrella.